Why choose Great Lengths? How do Great Lengths work? The bonding process and their benefits to you!
I've wanted to write this blog post for some time now, as a source of information to point people to in order to provide specific information on Great Lengths. Frequently I get asked the same questions about Great Lengths hair extensions and so if you find yourself reading this I hope you leave with a better understanding of why choosing Great Lengths is worthwhile choice for you and your hair.
There are a number of reasons Great Lengths are considered the premier hair extensions brand, and are worn by celebrities such as Cheryl Cole, Rita Ora, Jennifer Aniston, etc, and I hope to go into these in a little more detail in the following order:
Ethically sourced
No toxic chemicals
Keratin bonding
Long lasting
They look amazing
Application by a Certified Technician
Ethically Sourced – Where does Great Lengths hair come from?
Unfortunately the majority of hair extension brands and manufacturers available on the market today cannot guarantee the exact origin, quality or traceability of their hair. And in many cases, the hair is bought cheaply from a 3rd party meaning it has not been sourced directly by the company offering the hair extensions.
What Great Lengths can proudly state is that we know precisely where every single strand of hair that bares the Great Lengths logo has originated from. And furthermore that each strand is 100% real human hair, ethically sourced with a completely transparent route from the specific head from which it came to the technician you have chosen to apply it for you. This is unique inside the hair extensions industry.
When you decide to treat yourself to Great Lengths with Hair by Ava, your hair comes from here: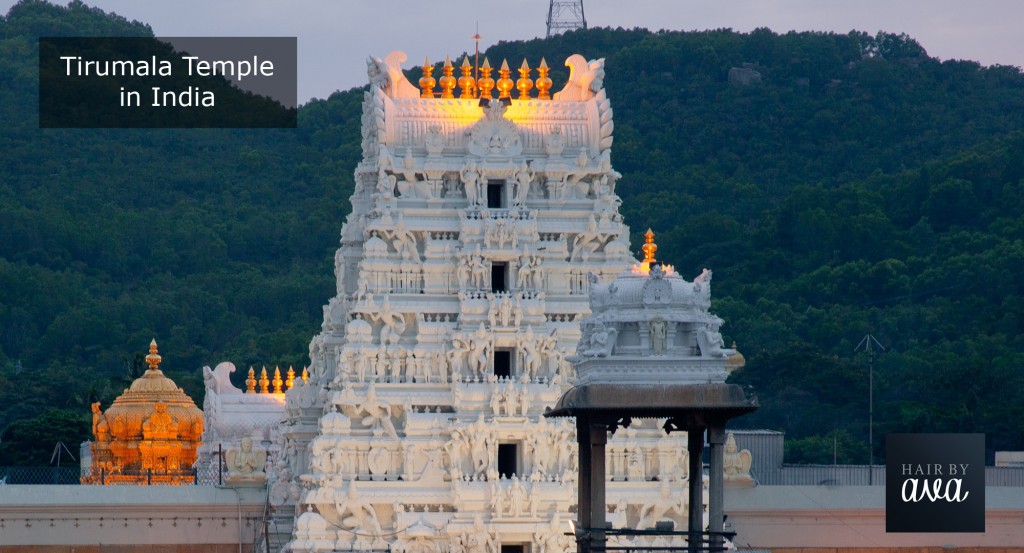 In Hindu culture entire families make the once in a lifetime pilgrimage to visit this temple and undergo a traditional religious ceremony called Tonsuring. Tonsuring includes the voluntary shaving of heads as an offer of thanks. The temple sells this hair to Great Lengths and the money made from sales is invested directly back into the local community funding medical aid, education and infrastructure. As such Great Lengths are ensuring that all hair is donated voluntarily (and not against the donors' will).
If you choose Great Lengths you can rest assured your hair is 100% human hair, that it's source can be traced, that exacting ethical standards and policies have been adhered to, and that the profits from sale are invested back directly into the local community of its' donors.
No Toxic Chemicals
Once hair has been sourced it needs to undergo a colourisation process which usually involves a number of toxic chemicals that strip the hair and degrade it's quality. Not Great Lengths. The only process performed on Great Lengths hair is their unique and non-toxic colourisation process. During this process there is no use of ammonia, bleach or derivative of these for de-pigmentation and pigmentation of the hair (stripping and adding colour).
Their unique process renders Great Lengths the only company that can factually state that there is no negative eco-impact as a result of the production process. Great Lengths undergo the preparation processes in Italy under strict standards whilst with a majority of other hair extension brands, the processing factories are based in China or Indonesia meaning a lower standard of regulation and a poorer product.
The benefit of this to you is that the colour and texture of Great Lengths hair does not differ to your real hair strands.
The Science; A special osmosis process removes the colour pigment from the hair. This takes longer than other chemical processes but is kindest to the hair (usually 15 to 20 days), and is done so without use of bleaches which can ruin the cuticles, strip the hair of its' natural outer coating and reduce the overall quality of the hair. It is then dyed with permanent colour and joined into small strands by desired lengths and hair type. The result is a wide range of real hair strands with intensive colours and natural shine.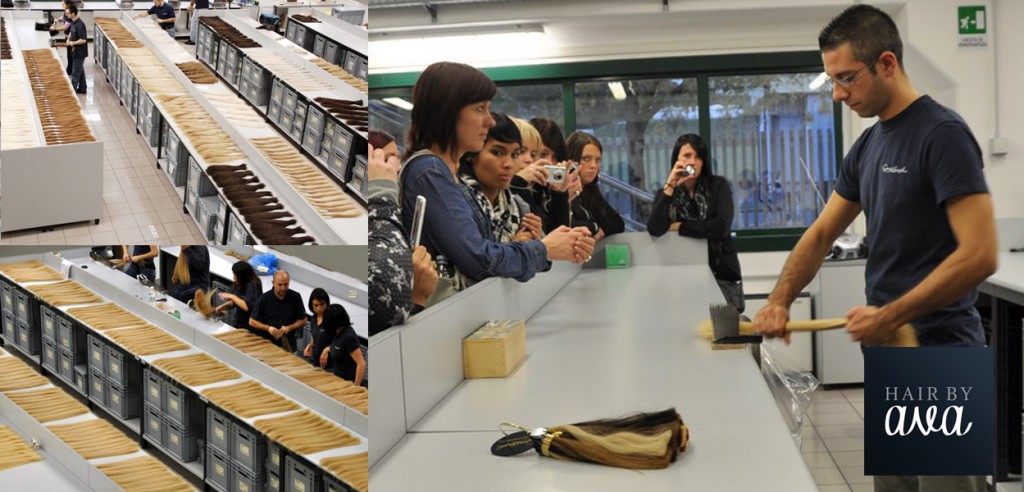 Keratin Bonding
Above all else, one the key factors that put Great Lengths hair extensions above all others is the bonds. Great Lengths use a keratin bond. Keratin is a protein structure that forms the main part of our hair and nails. At Hair by Ava I apply the keratin bonds directly to your own hair using hot/cold heat fusion (applied using heat with a Great Lengths application machine). The hot part of the tool only makes contact with the bond (not your hair) and the cold part of the tool makes contact with your hair. With no heat being applied to your hair directly your hair suffers no damage whatsoever during the bonding process.
Once applied the bonds are tiny, to the extent that you cannot see them in your hair which is a big bonus for us girls who want the look to be as natural as possible. Unlike some other hair extensions they do not feel heavy in your hair, and they allow you to wear you hair up or down in all styles as you choose.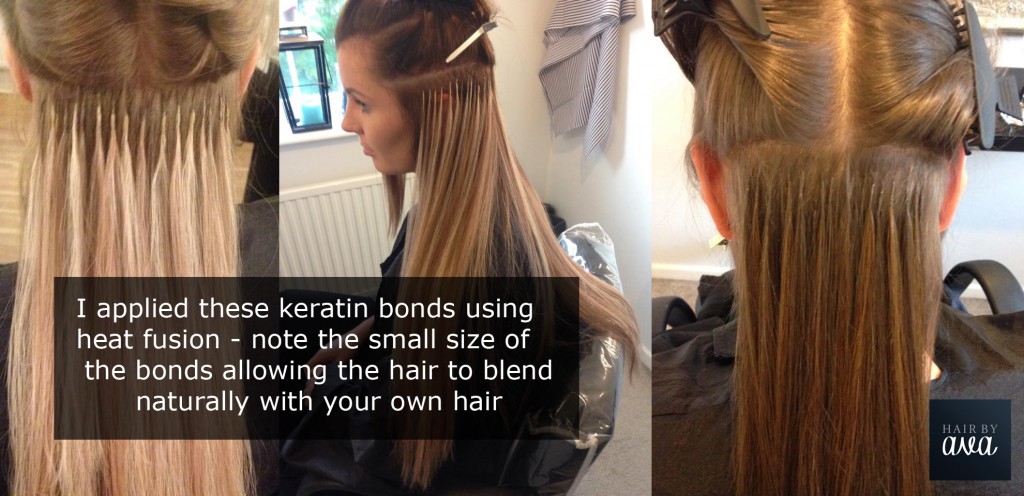 I offer free consultations for anybody thinking of getting hair extensions, and am located in Pudsey, Leeds (close also to Harrogate, Bradford and pretty much anywhere across West Yorkshire). If you wanted to book in for a free consultation we can chat about your hair, what your hair goals are, how we would match colours, what length and amount of bonds you would need, price, etc.
Long Lasting – means the initial price actually becomes a worthwhile investment!
Are Great Lengths expensive? In a word… yes! But you really do pay for the quality. The fact they do not damage your own hair allowing it to thrive and continue growing whilst you have your extensions in makes the price worth it alone. They look amazing, and due to the preparation process they retain the shine and feel of natural hair meaning they blend seamlessly with your own hair, and on top of that they genuinely last a lot longer than other cheaper brands available on the market providing you look after them properly.
You can expect to keep your extensions in for up to 6 months with a good haircare routine.
When this is factored in your hair extensions may not be as expensive as you initially thought. Whilst you could pay less for a lower quality set of hair extensions, getting Great Lengths means that you will not have to think about paying for your extensions to be removed and re-applied for half a year. It is common that with other brands your extensions may only last between 1 month to 3 months (the costs of which adds up especially if they are damaging your hair in the process).
All in all Great Lengths do cost more to buy and apply, but the pay-offs are that you do not damage your hair, they last a lot longer (saving you money) and the also look better. Food for thought surely.
They Look Amazing
For me the best part of my job is the end result. I have applied countless sets of hair extensions and every single time I am amazed at the transformation Great Lengths provide.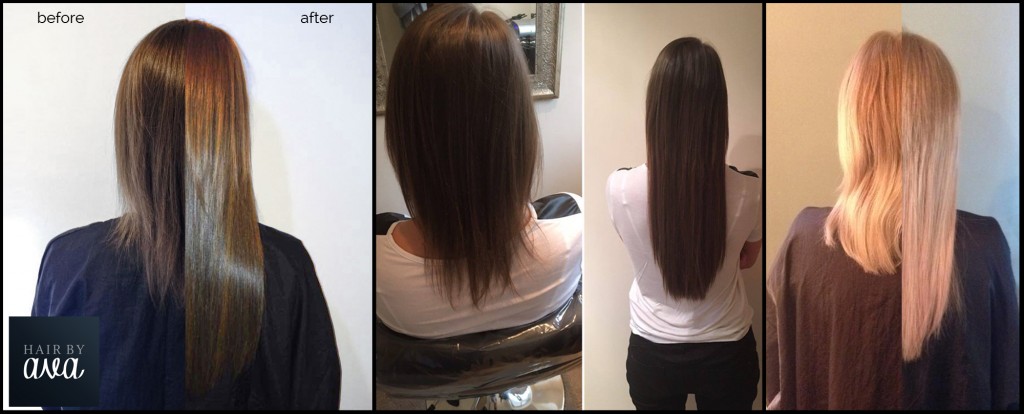 Just take a look at the 3 before and after pictures from 3 of my Great Lengths clients. The difference is amazing, and in the after pictures the hair looks much healthier, blends incredibly well, and perfectly hides the keratin bonds.
Application by a Certified Technician
When you choose to get Great Lengths hair extensions you can relax as you know your hair is in safe hands. Unlike other brands of extensions, Great Lengths can only be bought by a Certified Great Lengths Technician who has undergone intensive training and certification directly by Great lengths. This means that your hair is being applied by somebody who has taken the time to train and undergo certification in exactly how to apply the bonds safely to your hair (as opposed to a hairdresser who may be self-taught or who does not fully understand the application process and may cause damage to your hair).
I trained at Great Lengths in Leeds and have full certification and authority to purchase and apply your hair extensions. This includes insurance and cover from Great Lengths.
Given that Great Lengths UK are based in Leeds, West Yorkshire, and I am too… I also have the added bonus of being able to buy and collet your hair within the space of 24 hours meaning when you book in with Hair by Ava you will be able to get your hair applied as soon as the very next day!!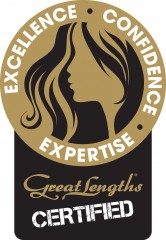 If you have any questions whatsoever please do not hesitate to either email me at ava@hairbyava.co.uk, call or text me on 07854 303 600 or leave me a message on my Facebook page: Hair by Ava on Facebook.
Thanks,
Charlotte x